Computer Genealogy Programs - How to Choose
Author: Robert W. Penry @ 2021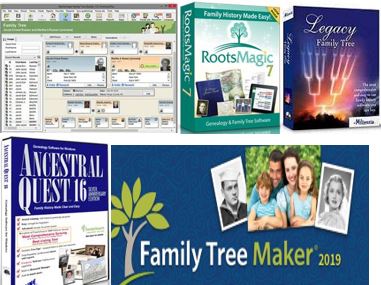 Fact:  People think, computers cannot.
The information we collect is stored in a file that we call our database.
The information you collect for your family history is important. You need to record it.  It must then be accessible.  You need a genealogy program.  There are many genealogy programs for you choose from.  What do you look for?  What do you need.? Most of them look good on their advertising websites.  They have beautiful graphics with the ability and many great features.
What do I look for in a program?  The appearance is important.  It shows that the company has some excellent graphic artists. But that is not what I look for. There are five categories I look for and expect:
1.
      

I must be able to view, copy, import, export, save, and report information from my database.
          a.  View.  I need the information to be easy to read with a quality font.  I want the colors to be brisk.  I don't want background images obscuring my view.
          b.  Copy.  I want to be able to copy and share information with others.  Actually copy the database, not just export a GEDCOM file.
          c. Import and Export.  I need to be able to import/export my database's  information with other databases such as FamilySearch that allow access.
          d. Save. I want my program to automatically save my program when I exit the program, or at least have it ask and give me the choice to save. Some programs update information immediately as you type.  This is a great feature if you have a power failure.  Nothing worse than entering data for two hours and having a power failure before you save.  A report that gives you a report of what you did during the session is great, especially if your program has a collaboration feature. Collaboration means that other family members can access the database and make changes also.  This usually means that your database is probably in the cloud.
          e.  Report. The program should have a variety of ready-to-use reports and the ability to create custom reports.  This requires a strong filter system.  The program should be above to print reports and PDF, Word, Text, or as a spreadsheet table.  It should allow multiple paper size including oversize files to take to a printing company.  If I am printing images, the program should accommodate different picture paper sizes.  Can I print blank forms?  Can I print fan charts?
2.
The ability to access and pull information out of the database is crucial. What good is a program without the ability to see and report the information?  This requires a strong set of filters to apply to the fields in a query.  A query tells which fields you wish to view.  A filter is used to pull a specific type of information. 
          Example of a filtered query.  "Give me a list of all males born in Floyd County Kentucky between the years 1820 and 1860 who never married."  I actually use this query to test computer genealogy programs.  I have a GEDCOM file that has several males that meet the requirement of the query.  If the program filters are too weak to find them for a report, then that is a problem.  A program without good filters is worthless.  I look no further.
          A filter should have these choices.  And, Or, Not, Is and Is Not, Before, After, Between, Contains, Does not Contain, Equals, Does Not Equal, Sounds Like, Does Not Sound Like, Exists, Does Not Exist, Less Than, Greater Than.
3.
      

I must be able to apply to apply information from my database to a variety of reports and forms.  The program must have Ancestor and Descendant Charts, Pedigree Charts and Family Group Sheets. The more pre-defined reports – the better.  Being able to report by RIN, MRIN, and Alpha are useful as are reports that report duplicates and errors. Is one report a book? This feature is fantastic. It takes basic information, adds text to make a sentence and compiles into chapters.  Example. in the database:  Name: Jones,John: Birth Date: 12/DEC/1912: Birth Place:  Pippas Pass, Floyd, Kentucky, USA. The book feature will make a sentence similar to this:
         "John Jones was born on the 12th day of December in the year 1912 in Pippas' Pass, Floyd County, Kentucky in the United States."
4.
      

I must be able to insert or add attachments to the database – images and documents?

 
5.
      

Bells and Whistles – Features unique to the program.
    Can I attach certificates and other types of documents and photos?

    Can the program language be changed from English to French or even Cyrillic, or can I obtain the program in another language?

    Will the program insert icons to let me know if the individual is also in FamilySearch, Ancestry or MyHeritage?

    Can I change ancestor lines to different background colors.  Can I design or use your own tags and icons?

    Can I modify the name of a field?

    Will the program allow for same-sex marriages?

    Will the program allow me to download a PDF User Manual?

    Does the program have a thorough help system, both in the program and through the internet or phone?

 

     For members of the Church of Jesus Christ of Latter-Day Saints:  

          Can you print ordinance lists?

          Can you submit names for the temple from the program?

          Are there fields in the program for Blessing, Baptism, Confirmation, Endowments, Sealings, Ordinations including the location       where these took place?

         Will the program identify individuals that need particular ordinance work completed?
Features differ from program to program.  I recommend downloading free versions of all available programs.
Build a sample file of several families including children and parents of those families.  Make sure that they have different dates and places for events.

Export to GEDCOM and import to the other programs and start comparing.

Run some reports and look at various views within the program.  

Try some filtered queries.  

Choose the program you like best and purchase the cost version which will have more bells and whistles.  
NOTE:  If a program doesn't support GEDCOM, delete it, it is of no value.  
The following is a list of several programs.  Some are for the PC, some for the MAC, some for both. If you click on the image, it will take you to the program's homepage.