Questions: Genealogy or Family History? Art or Science?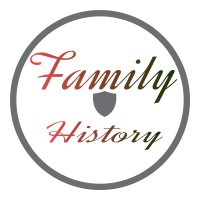 Author: Robert W. Penry @ 2021
I am often asked "do you do genealogy?"  If I answer, "Yes", then I have defined myself as a genealogist.  However, even though I use genealogical techniques, I think of myself as a family historian instead.
Why? What is the difference?
My definition of genealogy: "Genealogy is a set of tools and rules for the gathering of statistical information about one's ancestral lines."
In this respect, genealogy is a science.  It uses a set of tools for research.  Those tools include methods of obtaining information.  It has rules.  It defines how to record very specific information such as how to enter a name, a date, or a place. 
Genealogy's basic set of information is very simple.  Name of person, Date and Place of Birth, of Marriage, of Death, of Burial.  These are statistics. However, there are many other facts about an individual that can be obtained such as cause of death, occupation, military service, homes, titles, etc. These additional facts can number in the hundreds.  This collection of facts can be unlimited,
This collection of facts is history.  It defines the life of the individual.  As such, genealogy research is historical research. History is defined in the arts, not in the sciences.  The basic question that has been asked many times is: "Is genealogy an art or a science?"
Answer:  Art. Collection of data may be structured like science and math is used in the calculation of dates, but the techniques and results create the history of individuals and families.   Much of family history involves logic, the ability to make inferences based upon examination of information.  The following is a case study of a hypothetical family.  There are decisions that you must make using logic – an art.
You have found a letter in a family bible written by an ancestor, a great-great aunt.  The letter reads:
"My Dad
George Alexander Johnson of Leesburg was married twice.  Both of his wives
were named Elizabeth.  Besides me, we had the following children
in the family Samuel, David, Zach, Georgie, Daisy, Emma, Polly, Rebekah, and
Liz"
It was signed by Florence Smith
Using logic:              What was the surname of each child at birth?
                                 Was Florence one of the children? How do you know?
                  
                                 Was Florence married? If so, what was her husband's surname?
                  
                                 Were both of George's wives Mrs. Elizabeth Johnson?
Now we have a problem, if there were two wives and ten kids, and both wives were Elizabeth, which wife does each child belong to?
Time for some research.  Using our genealogy tools, we check marriage, birth and death records.
We looked at some difference census and county histories and find that there was only one George Alexander Johnson who lived near Leesburg.  This helps.
Using Logic:        Is it likely that any birth records that list the parents as George Alexander and Elizabeth Johnson will be
our George?
We find two marriages for George Alexander Johnson:
          George Alexander Johnson married Elizabeth Brown of Centerville on 4 January 1882
In the Leesburg United Methodist Church.
         
Reverend George Alexander Johnson married Elizabeth Jacobs on 13 October 1890 in the Leesburg UMC.
Using logic:         Is it likely that George and his wives lived in Leesburg, or very nearby?
                  
                              Could George be the Pastor of the Leesburg UMC?  Yes, no, maybe?
 We found a death record for Elizabeth Brown Johnson who died 11 Aug 1886.
Using logic:  Could all ten children have belonged to Elizabeth Brown? why or why not? 
We found birth records as follows:
Born to George and Elizabeth Johnson:  George Johnson Jr 12/11/1882
Born to George and Elizabeth Johnson:  Mary Ann 02/15/1884
Born to George and Elizabeth Johnson:  Rebekah Jane 08/01/1885
Born to George and Elizabeth Johnson:  David Aaron 08/11/1886
Born to George and Elizabeth Johnson:  Emma Louise 09/03/1891
Born to George and Elizabeth Johnson:  Elizabeth Susan 01/02/1893
Born to George and Elizabeth Johnson:  Zachariah Lee 07/08/1894
Born to George and Elizabeth Johnson:  Samuel Jacobs 10/12/1897
Born to George and Elizabeth Johnson:  Florence Olivia 11/11/1899
Oh no, we didn't find a birth record for Daisy!
We found an entry in "Find a Grave" showing a tombstone in the Leesburg UMC Cemetery which read "Here lies Daisy Mae Johnson Hughes died 29 Aug 1982 at age 86 years 3 months 5 days.
Using logic:         What is Daisy's date of birth?
                  
                              Where did Daisy fit into the family? 
Can you now fit all children to the proper parent?
Did Florence use nicknames in her letter? 
Is Polly Mary or is Polly Daisy? 
Could George have divorced Elizabeth Brown?
How did Elizabeth Brown Johnson die?
As you can see the collection of genealogy facts is scientific in nature, but being able to assemble the information correctly is art.  It requires the use of logic.  The hypothetical case above illustrates this.